News
BOXX Insurance Canada Feature – Never too old to start up
toronto, Canada.
Monday, November 30, 2020
BOXX works exclusively in the cyber space

Cyber is one of the fastest-growing insurance categories

BOXX wants to kill the complexity in the buying process of insurance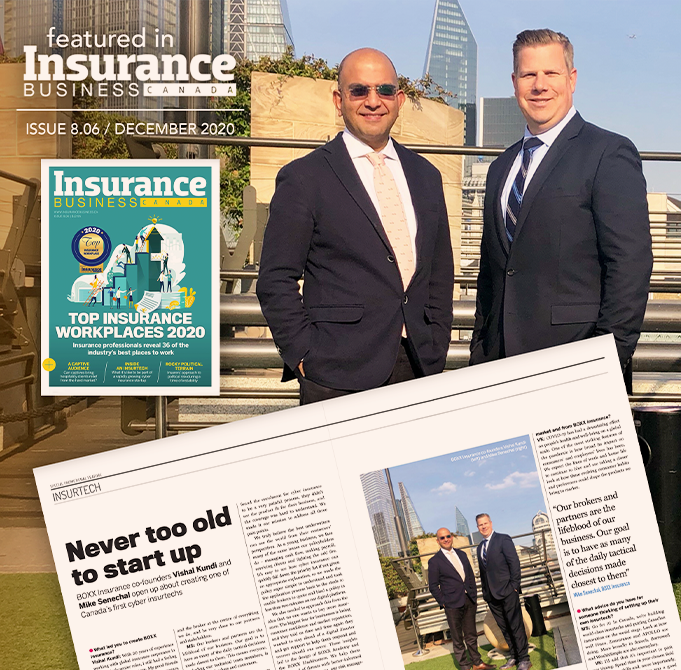 BOXX Insurance co-founders Vishal Kundi and Mike Senechal open up about creating one of Canada's first cyber insurtechs.
What led you to create BOXX Insurance?
​Vishal Kundi: With 20 years of experience working with global insurance corporations in progressively senior roles, I still had a feeling that I could be doing more. My good friends were successful technology entrepreneurs, and their passion was inspiring. I shared my ideas and vision with them, and one thing led to another.
​Mike Senechal: My entire career has been in tech; I built my own software development company and then co-founded a fintech that was sold to SoFi in Silicon Valley. I was attracted to Vishal's vision at BOXX – to make insurance less painful for brokers and their clients – and the impact we could make in the cyber insurance world.
What's different about working at BOXX compared to a large insurer?
VK: At BOXX, we work exclusively in the cyber space. It requires a different mindset to big corporations. Cyber is one of the fastest-growing insurance categories; it's also the most dynamic. To be successful, we stay zealously focused on what we do and follow three key principals: have a bias for action and deliver daily results; truly put the customer and broker at the centre of everything we do, and be very close to our partners and stakeholders.
MS: Our brokers and partners are the lifeblood of our business. Our goal is to have as many of the daily tactical decisions made closet to them. This means everyone, including our technical team members, is front line with brokers and customers.
How has COVID-19 impacted BOXX, and have you noticed any shifts in demand for cyber insurance?
MS: As a 100% digital business, our service to brokers and clients didn't miss a beat. We were lucky enough to seamlessly switch to working remotely. We've seen more brokers and companies sign up for BOXX to help protect their businesses. People are waking up to the digital risks and need to stay ahead of cyber threats, particularly as they become increasingly dependent on digital technology to communicate with customers and operate their business.​
Vishal, what was your approach when crafting Cyberboxx Business Edition?
VK: Businesses and brokers told us they found the enrolment for cyber insurance to be a very painful process, they didn't see the product fit for their business, and the coverage was hard to understand. We made it our mission to address all three pain points.
We truly believe the best underwriters can see the world from their customers' perspectives. As a young business, we face many of the same issues our policyholders do – managing cash flow, making payroll, servicing clients and fighting the odd fire. It's easy to see how cyber insurance can quickly fall down the priority list if not given an appropriate explanation, so we made the policy super simple to understand and took the application process back to the studs to enable brokers to quote and bind a policy in less than two minutes on our digital platform.
We also needed to approach this from the idea that no one wants to buy more insurance. The biggest fear for businesses is losing costumer confidence and market reputation, and they told us time and time again they wanted to stay ahead of a digital disaster and get support to help them respond and recover should one occur. These insights led to the design of the BOXX Academy and the BOXX Hackbusters, We help them stay ahead of threats with better-informed employees and, of course, our risk management services and tools.
You've invested heavily in broker-facing sales and marketing technology and tools. Can you talk a bit about that?
MS: We want brokers to feel comfortable explaining cyber risks, and we want to provide the sales and marketing to help them do that. Cyber breaches are in the news nearly every week, yet SMEs still find it difficult to see how they are exposed and if cyber insurance is worth the investment until it's too late.
Brokers want to have the risk conversation with their clients but feel they can't go in unprepared. To overcome this, we talk to brokers about ways they can help clients put the spotlight on the risks in their business and work out how they can reduce their risk and use insurance to transfer the remainder.
Once a client decides to purchase, we wanted to kill the complexity in the buying process. We enable brokers to send us paper applications, but they can also quote and even bind policies on our platform, track sales, and set up marketing campaigns.​
What can we expect going into 2021, in terms of the cyber insurance market and from BOXX Insurance?
VK: COVID-19 has had a devastating effect on people's health and well-being on a global scale. One of the most striking features of the pandemic is how broad its impact on consumers' and employees' lives has been. We expect the lines of work and home life to continue to blur and are taking a closer look at how these evolving consumer habits and preferences could shape the products we bring to market.
What advice do you have for someone thinking of setting up their own Insurtech?
MS: Go for it! In Canada, we're building world-class insurtechs and putting Canadian innovation on the world stage. Look at how well Fineo, Zensurance and APOLLO are doing. More broadly in fintech, Borrowell and WealthSimple are also exemplary.
VK: I'd add that it's important to pick your timing. Spend time in your chosen field to develop core skills and, more importantly, self-awareness. This will give you a good understanding of your strengths and weaknesses and the type of people you will need to surround yourself with when you are ready to take the leap.
Original Article Published by Insurance Business Magazine
About BOXX Insurance
BOXX Insurance Inc. helps businesses and families insure and defend against cyber threats. BOXX Insurance Inc. is privately-held with headquarters in Toronto, Canada. BOXX's vision is to help businesses, individuals and families stay ahead of, respond to and recover from cyber threats, putting their digital safety first.
News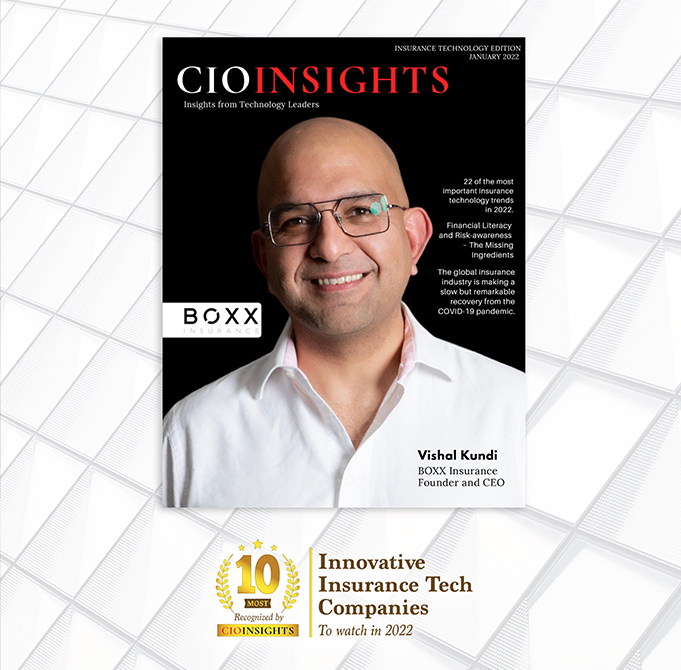 Amidst booming digitalization, BOXX has landed its wheels on track with a promise to make Cyber Protection & Insurance smarter and simpler.
News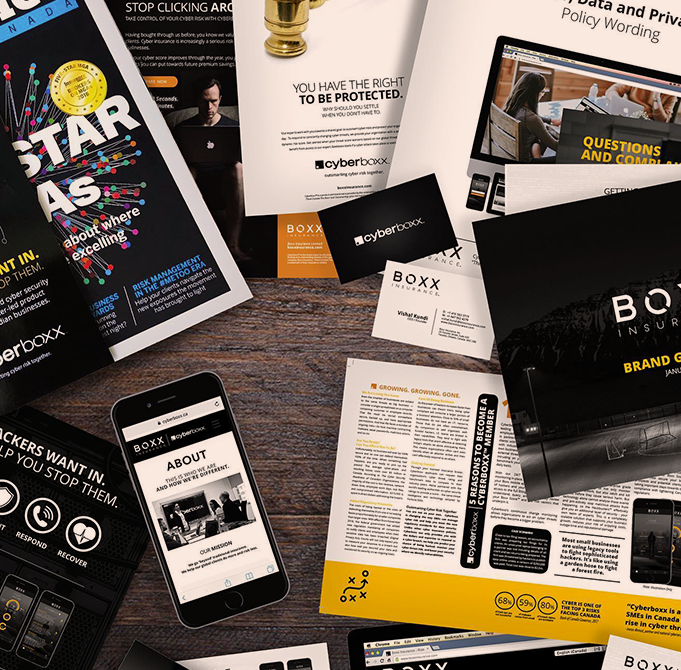 BOXX Insurance announces new investors Cyber Mentor Fund (CMF), Zurich Insurance Group (Zurich) and SixThirty Ventures.
Sign up for the BOXX Insurance Newsletter
Get the latest updates about Cyber Insurance and Protection with our newsletter.